You can choose fire alarm system for warehouse or get trouble free fire alarm panels with complete user guide and installation support. Ravel Electronics Pvt Ltd is your trusted partner bringing to you something of the best quality and advanced fire alarm panels – that are easy to install to detect smoke through light sensors or when smoke particles pass thru the chamber of the optical detector. In this way, it scatters light and triggers the alarm.
BMP Systems is Authorised channel partner of "Ravel"
Advanced fire alarm panels are the basic need of any premises – mainly for warehouses and places, where large gathering often takes place and need extra safety standards. Such fire alarm panels become activated by receiving information from devices that is specifically designed to detect and report fires and monitoring their operational reliability. Such panels are helpful in providing with automatic control of equipment along with transmission of information that are required to prepare the facility for fire based on a prearranged sequence.
Conventional Fire System​
Fireman Telephone System​
Conventional Beam Detector
The RE-428 Series beam smoke detector is designed for smoke detection at the start of a fire. It is especially suitable for protection of indoor spaces, in which the appearance of smoke is likely during ignition of a fire, and where, due to a large space area, installation of a greater number of point smoke detectors would be necessary. The RE-428 Series beam smoke detector and the prism reflector or reflector panel are installed on opposite walls of a room.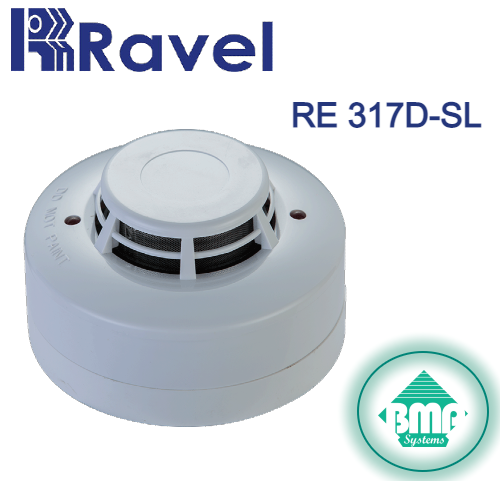 UL Listed Analogue addressable smoke detector with 8 digit dip switches for ( 1 to 254) address settings,Dual LED indication for 360 degree visibility ,milky white in color,shall be polarity insensitive, Insect filter chamber, easy to install, advanced detection and communication protocol.
Manual pull Station - Addressable
Features
Lift and pull
Break glass cover
Weather and Explosion proof versions(optional).
All stations offer hex screw or key lock access
Construction Material
Painted Die Cast Housing
14 Ga plated steel black plate
Corrosion Inhibited surfaces
Terminal block (4 Position)
Single Gang Mounting
10 A , 120VAC snap Action Switch
In large buildings, industrial areas and even at homes, focusing on fire protection is important to stay protected and take right step in case of fire or smoke is detected. Choosing the right type of conventional alarm system or placing your order for conventional fire system will be an added advantage to help you in detecting fire and taking the right step. You can choose conventional fire system with a complete user guide and assistance in installation. Choose the right models of your choice and according to your requirement and get them with installation support.
You can choose conventional fire system with a complete user guide and assistance in installation. Choose the right models of your choice and according to your requirement and get them with installation support. Ravel Electronics Pvt Ltd offers you conventional alarm system – a variety of models and delivered on time in secure way.
Fireman Telephone Systems
We offer you an exclusive range of fireman telephone systems
Main Consoles – RE-740
RE-740 is the latest model of main console with master to remote and remote to master calling facility. It is fully monitored for open and short circuit cable failures and with options of remotes connected via 2 core radial. It complies with BS5839 Pt.9 2002 and offered with conference call facility. The system outstations are radically wired in 2 cores 1.5 mm enhanced fire rated cable or as loop wired 4 cores 1.5 mm enhanced fire rated cable.
Fireman Jack – EK-750J and EK-751J
We have two models of fireman jack – advanced fireman telephone systems. Some added features that make each model ideal to use include stainless steel enclosure, any number telephone jack can be daisy chain, flush/wall mountable and 4.5 mm or 6.5 mm (2 terminals) or RJ11 Jack.
Fireman Handset – RE-750H
We are the trusted fireman telephone system supplier offering you a new range of fireman handset – RE-750H offered with amazing features like MS Box, Coiled Cord set, Wall mounting and a lot more. Telephone handset is compatible with 6.5mm jack / RJ11 telephone plug; while you can get in 300 H X 200 W X 100 D mm size of cabinet.
Public Addressable Systems
Main Consoles – Ekonics, e'Scape and Revac Nx
Expanders – EK Series, EX Series and XP Series
Amplifier – 125W Amplifier and 250W Amplifier
Speakers – We have different sounders for PA Systems like RE-LS20W, RE-LS30B, RE-LU100XT, RE-LS6W and RE-LS6C
You can the choose and get them delivered with complete user guide. Delivery is done in secure way and with complete user guide.
Amplifiers for PA systems, for instance, are the most vital devices installed inside the premises to improve sound quality. They are required to convert a low-voltage, high-impedance wave form into a high-voltage, low-impedance waveform. Main purpose of Amplifiers for PA systems is to reproduce a low-power signal at high power. We ensure you will get the best range of such systems with user guide.
ach unit has its importance and required to make PA systems ideal to work for you. We offer you customer care services for PA Systems so that you can get the right solutions for your queries related to uses, installation and maintenance. You can place your order from anywhere for the best range of PA system integrated with fire alarm systems. Choose the right models, go through the details and place your order.