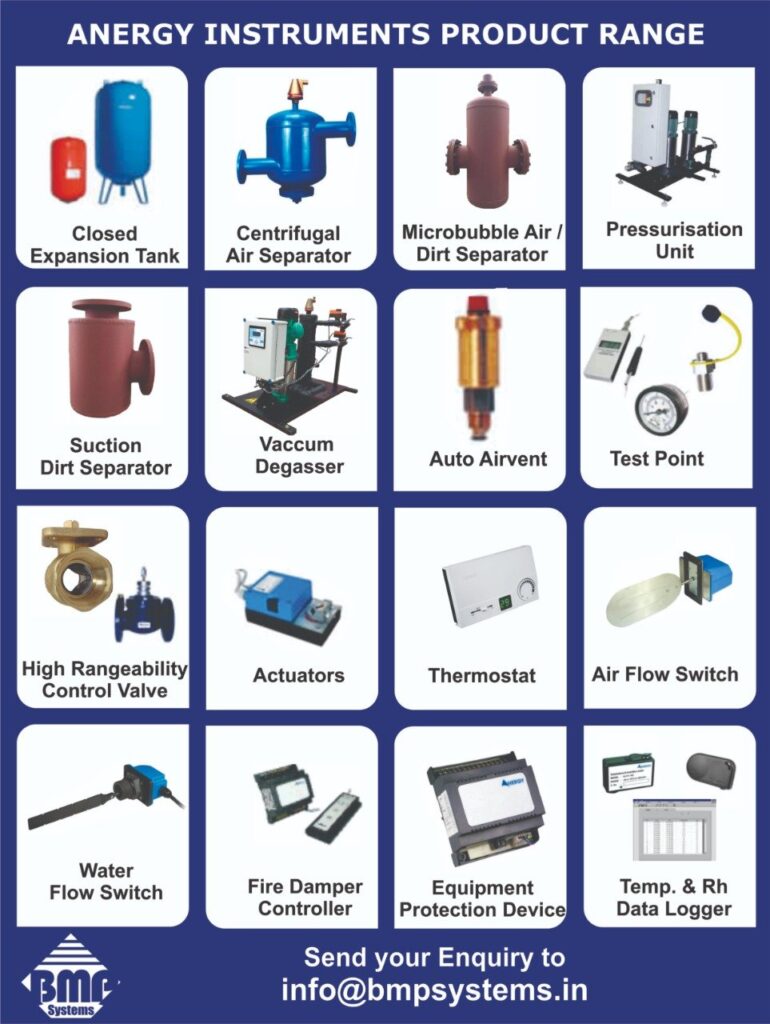 BMP Systems is Authorised channel partner of "Anergy"
We provide complete offering of innovative HVAC, Hydronic System, Measurement & Recorder and Special Controller devices.
HVAC
Controller, Sensor,Transmitter, Switch, Valve, Actuator
Cooling Tower is one of the Controller of HVAC
Features Includes
Immersion temperature sensor to sense sump-water temperature
Ambient temperature and humiditity sensor for wet-bulb calculation
Microprocessor based controller
Calculates ambient wet-bulb temperature
Controls fan speed or number of fans to be run, based on difference between sump-water temperature and wet-bulb temperature
Benefits includes
Saves energy
Increases equipment life
Easy to operate
Long life
Hydronic System​
Separators, Air Vents, Expansion Tank, Test Points
Used for maintaining chilled / hot water system pressure in HVAC application
Expansion water stored in replaceable rubber bladder, at ambient pressure
Microprocessor based controller with display
• Senses and maintains system pressure
• Operates spill control valve to release water during expansion /
pressure increase
• Stats multistage pump during contraction / pressure decrease
• Soft start / stop facility
• Programmable deaeration schedule
Double pump, 1 working + 1 stand-by
Multistage, high pressure centrifugal pumps – quiet, reliable and rugged
All components, i.e. Pumps, pressure transmitter, valves, interconnecting piping and control panel factory mounted on a compact steel frame.
Measurement & Recorder​
Data Loggers, Flow Meter, BTU Monitor
MULTIJET WATER METER: 405S

The 405S is a dry dial multi-jet water meter with a protected magnetic transmission between the measuring element and the totalizer.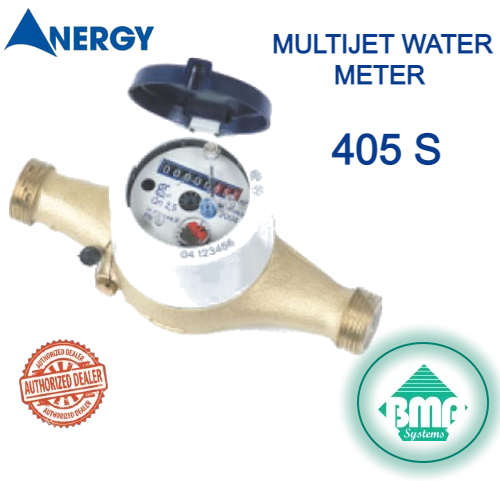 Special Controller​
Astro Switch, Fire Damper controller, EPD
Fire Damper Controller
Feature Includes
Monitors fire damper position
Monitors air temperature in ducts
Switches off AHU and closes fire damper in case of alarm from smoke detector/BMS
Connects to external fire alarm system
Benefits Includes
Continuous monitoring of ducts for excessive air temperature
Continuous monitoring of fire damper position
Prevents fire spread by closing the fire damper
Remote panel indicates the power ON, Damper position and Alarm status
TEST and RESET button on the remote panel facilitate testing and resetting of the system