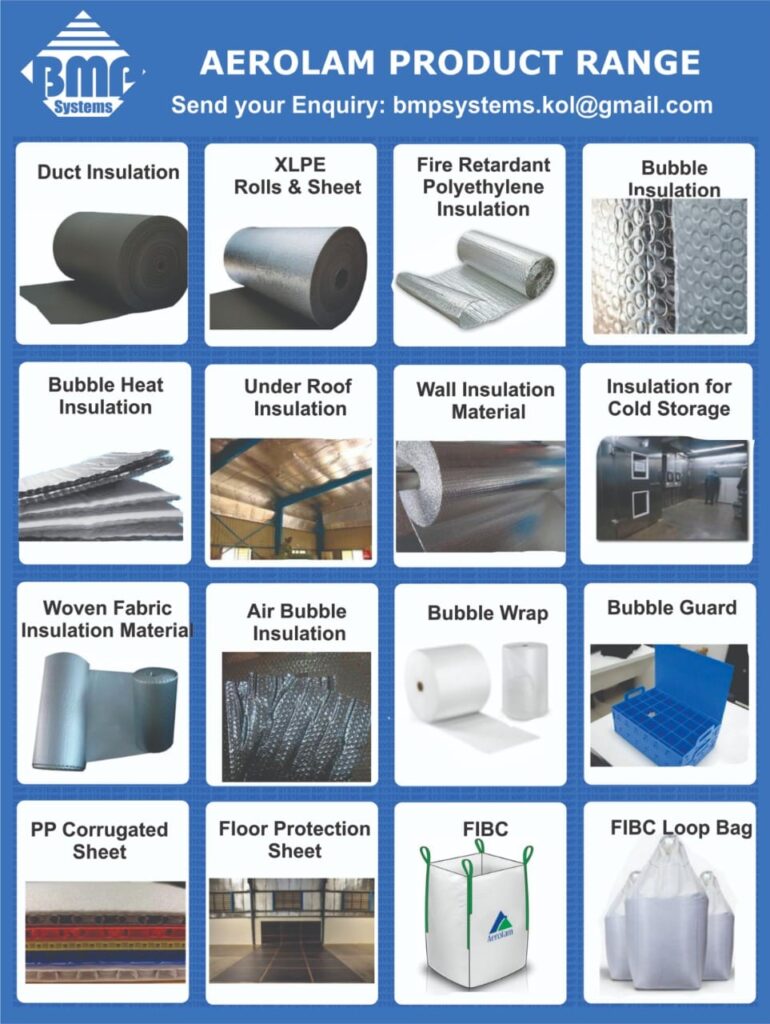 BMP Systems is Authorised channel partner of "Aerolam"
The AEROLAM Group of Companies comprises leading professionals, high quality and precisely designed products, through high-end engineering and advanced R&D.
Simple Industrial Clean Bags
Aerolam is the first in India to produce double bubble insulation and have a state-of-the-art lamination technology which is one of a kind.
This type of insulation is hybrid in nature and has Unique & Ultra Over Air Technology. Aerolam manufactures insulation of various thicknesses, starting from 4 mm up to 20 mm. The "Bubble + XLPE" uniquely combined product has been recently developed by Aerolem.
Aerolam Super PE
Aerolam Super
Aerolam Premium
Aerolam Advance
Aerolam Optimum
Aerolam Unique
Aerolam Ultra
Applications
Underdeck / Under Roof Insulation
Poultry
Water Tank Insulation
Aerolam Insulation Division is a leading manufacturer of Insulation products such as Bubble, XLPE & Hybrid Insulations in India, renowned for its excellent Quality of Products, world-class technology and prompt delivery of its products.
AEROLAM XLPE as duct insulation is specially designed for HVAC segment and for applications in Textile and Building industry, for thermal & acoustic insulation. AEROLAM XLPE conforms to Class 1 for Surface Spread of Flame Characteristics and Class 'O' for Fire Propagation, is dust and fiber free and user friendly.
AEROLAM XLPE ROLLS & SHEETS
AEROLAM XLPE PIPE INSULATION
Features Includes
Negligible
Water/Moisture Absorption
Excellent Thermal & Acoustic Insulation
Resistance to Fungi
Chemically Unreactive
Wide Operating Temperature Range
Stable K Value
Maintenance Free
Flexible & Easy to Install
Applications
Underdeck / Under Roof Insulation
HVAC Duct Insulation
Pipe Insulation
A Multi-Solution Innovative Polypropylene Board that will revolutionise the segment of boards.
Bubble GUARD is a multi-layer alveolar board made from 100% polypropylene with a unique circular honeycomb structure core at the centre and two flat surfaces on either side with great versatility and high performances. It is 100% eco-friendly & recyclable.
Aerolam now makes the world's first DOUBLE LAYER BUBBLEGUARD board with the highest weight range up to 6000 GSM.
AeroPro Protect – Floor / Wood Guard
AeroPro Infra – False Ceiling
AeroPro Pack – Packing Solutions
AeroPro VisCom – Print Guard
AeroPro Box XL